This is the Steampunk Orrery widget Mark II - This is the new version that provides a lot more animation and extra functionality.
UPDATE: It provides a daily memorandum function via a truly steampunk interface. Select a date via the calendar ring and click the date shown and it will allow you to enter a memo or reminder. You can use the ring to select future or past memos and whilst you are doing so the orrery will allow you to reflect on the passage of time and the true nature of this force that controls our lives. Well, you might...
The calendar ring rotates by mouse control, the date displays according to ring position. The inner earth and moon rotate, the moon around the earth. The earth rotates around the central glow, roughly following the track of the window circular frame. The inner wheel with lots of bolts, counter-rotates as the main calendar ring rotates. Clicking on the moon causes the moon to expand so that you can see the phases of the moon according to any date you choose. Clicking on the earth causes the earth to enlarge shoing you an image of the rotating earth. The widget is fully resizable for your desktop. Please let me know what you think of the new version of my orrery/calendar. If you like it, then feel free to leave a comment below.
The original Yahoo widget orrery for Windows/Macs has lots of functionality all of it written in javascript - The second version was adapted to run on xwidgets on windows. Next was the rainmeter version - the first of our steampunk widgets to be adapted to a rainmeter widget also running on Windows. The third is the Linux KDE plasmoid here adapted for Linux/KDE using QML. Each version is slightly different adding/modifying functionality. The latest version, this one provides a lot more and you simply have to give it a go.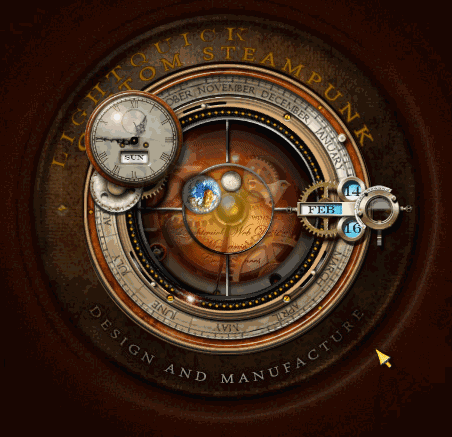 Running the widget in a javascript engine frees javascript from only running within the captivity of a browser, you will now be able to run these widgets on your Windows/Linux/Mac desktop as long as you have an engine installed.
You will,
of course, need Yahoo widgets for this widget to run. Get Yahoo widgets here.

and the Mac version here: http://desktopwidgets.zenfs.com/4.5.2x10a50/yahoo_widgets_4.5.2.dmg

This widget works with Windows XP SP3, it has been tested on Vista, Windows 7 /8 and Mac Os/X so it should work on these with no problems.
OS/X too as long as the Yahoo Widget runtime engine is loaded. Full instructions for this widget can be found here:
Steampunk Orrery Calendar Clock 1.1.7 - was awarded the SOFTPEDIA "100% CLEAN" AWARD This product was last tested in the Softpedia Labs on 15th of March 2012 by Andreea Gheran Softpedia guarantees that Steampunk Orrery Calendar Clock 1.1.7 is 100% Clean, which means it does not contain any form of malware, including but not limited to: spyware, viruses, trojans and backdoors. This software product was tested thoroughly and was found absolutely clean; therefore, it can be installed with no concern by any computer user.
We perform an installation service - so we can steampunk your desktop if you want us too. If you have a Windows XP/Vista, Windows 7 PC or laptop we can add the steampunk widgets, the leather backdrop, rocketdock launcher and the steampunk icons. Just give us a call here .